Additional Features:
Entire home is built from non-toxic lifetime materials, termite-resistant, natural woods.


Water system is protected by a whole-house UV purification system.


All the windows and sliding glass doors are long-lasting almond vinyl, and have been treated with an Architectural coating to reflect UV rays and protect the home's interior.


Home is wired with 3 separate telephone lines, high-speed internet, and fax.


Fireplace has switchable electric fans with installed vent system,
to direct heated air into the Living Room and/or Master Bedroom vents.




Vertically Situated Storage Closets (upstairs and downstairs), designed for optional conversion to elevator or dumb-waiter.


Extra heavy-duty hidden construction features for high winds, intense storm conditions. (Such weather is not usually encountered here, but this home was reinforced in many ways, as added comfort/security.) Click here for some of the wind-load, earthquake & added strength specifics.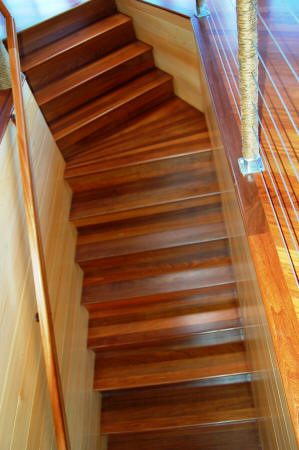 Handcrafted Stairway with inlaid Ipe hardwood and
custom-crafted, tri-wood inlaid, molded handrail, a simple, elegant work of art.

Click here to view Different areas of the Property:

More Areas & Features - Upstairs: