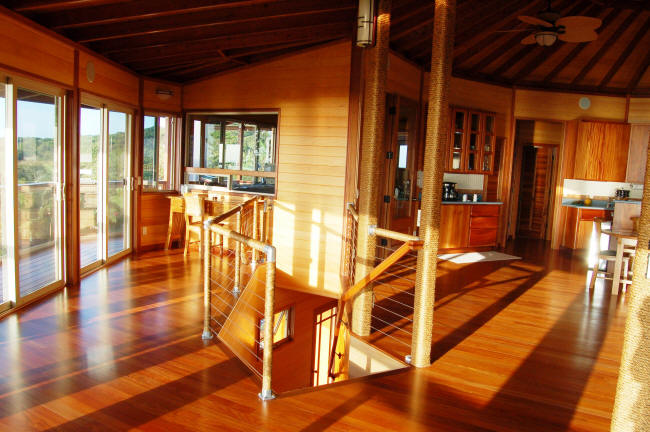 Downstairs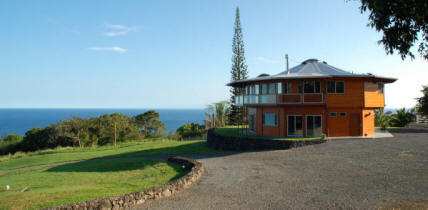 Bedrooms
Two of the downstairs bedrooms open off from the central Family/Game Room,
and they also have private outside entrances, opening onto the downstairs lanai / lawns...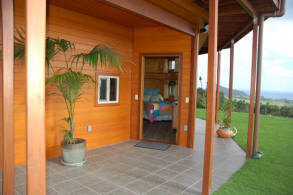 To visit Bedroom #3, click here.

Downstairs Guest Room
To see more of Bedroom #4, click here.



Downstairs Covered Lanai
All the downstairs rooms are wrapped and protected
with Cedar and Redwood Covered Lanais, with open beam Cedar ceilings.
To see more downstairs Lanai photos, click here.


Massage Room
(Indicated as "Study" on floor plan sketch)
A special place to treat yourself, and your guests to relaxing, therapeutic massages
in the convenience of your own home.
Click here for more info on the massage room facilities equipped for treatments
in this quiet, tranquil and private setting.



Far-Infrared Sauna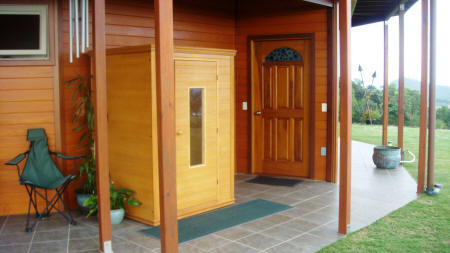 Click here for information on this beautiful new TheraSauna™ unit,
and its excellent Health Benefits.



Downstairs Bathroom
Enter in from the central Game Room, or from outside
with sand on your feet from the beach - no problem!
Cedar and Tile Bathroom, designed for easy access
by inside house residents, beach-goers and guests...
Click here for more details of this Bathroom's features.


More Downstairs Areas