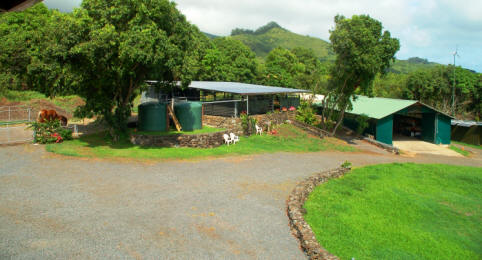 Backup Systems and Reserve Designs
Many Extra Features in the property's design,

for enhanced health, longevity, safety and convenience.

Electrical System and Back-up Reserve Designs:
Fully Integrated Electrical System -
1) Primary source of energy is from Solar energy, charging battery bank,
2) Secondary energy source, additional charging of battery bank from Wind Generator,
3) Third energy source, additional charging of battery bank (when desired) from a powerful, quiet Diesel Generator.


All electric, telephone lines and other wiring for the house, barn and other areas are laid in underground conduit.
There are no overhead wires on the property.


Propane and Back-up Reserve Designs:
Appliances are a nice mix of both electrical and propane.
(Two electrical refrigerators, one propane refrigerator. One propane dryer, one electric.)

Water System and Back-up Reserve Designs:
Property has its own private water system and also possesses a public water meter, located at the lower end of the road / driveway. County water can be piped up if desired, and there is also unlimited access to public water, via filling tanks and/or containers, etc.


Water storage tanks are healthy, enclosed, food-grade vinyl -- for hygienic safety and lifetime durability.
Two separate water storage systems, both plumbed to service the house and faucets.
1) Primary water system receives rainwater from the roofs of home and stables.
2) Secondary water tank located behind the barn/workshop is kept filled for reserve use.

Water supply is switchable to run from the backup water tank, if ever desired.


House and Stables are roofed with High-quality 316 Stainless Steel, for long life, no rust, and healthy water catchment surfaces, plumbed into water storage system.


Entire Water system is additionally purified by a whole-house UV filtration system.


Two full septic tank systems, underground.

Water Heating / Other Back-up and Reserve Designs:
Home is supplied with a large volume (80 gal) Solar hot water system,
plus a back-up Propane on-demand Paloma, for non-stop on-demand hot water, in any weather or season.


Besides the water heating system and laundry facilities inside the house, the Insulated Generator Shed includes a separate, secondary Laundry Room:

Internet Access and Back-up Reserve Designs:
Internet access is currently backed up, as well. High-speed internet service is supplied by Oceanic-Time Warner, with back-up access through optional dial-up service on one of the 3 telephone lines.


Internet service is available via either, of your choice:
1) Wireless network / wireless router, and
2) Direct LAN. The main rooms of the home are also wired (inside the walls, with cat-5 outlets) for direct internet connections in bedrooms/den/office areas. These in-wall computer outlets are routed through a high-speed networking switch, located inside the home's central console.


More Features -- Energy & Grounds: