Kitchen Areas:
The central kitchen area is delightfully designed,
with additional areas and features for gracious and efficient cooking pleasures...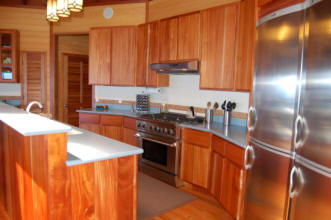 Hand-crafted, solid African Mahogany cabinetry
and central island with Corian™ sinks / countertops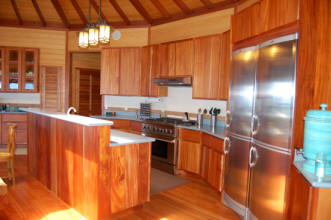 This home is fully solar-powered (electricity & hot water)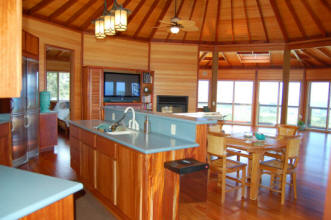 Energy-efficient, Professional-Grade Propane Appliances: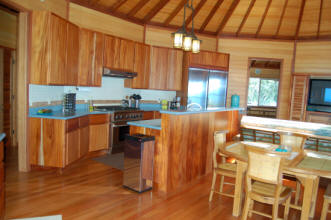 Kitchen features two Danish-made, energy-efficient
Stainless Steel Refrigerator/Freezers, built-in.
Professional-grade DCS Stainless Steel 6-burner Gas Range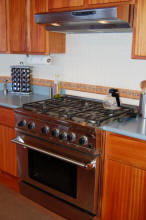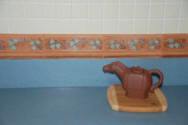 Charming, hand-made baked Italian ceramic tile surrounds the kitchen,
extending up from Corian™ Countertops with molded Corian™inset sinks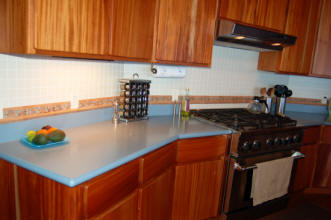 Hand-crafted cabinets feature automatic, cushioned, closing-assisted doors and drawers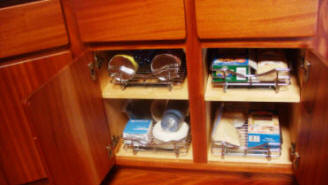 Professional grade, Stainless Steel sliding cabinet organizers,
and canned food storage:
Kitchen views from the Left and Right Sides of Center Island:
Here is part of the View out into Living Area from Kitchen Sink:
(sweeping panoramic views inside are too wide for a camera lens)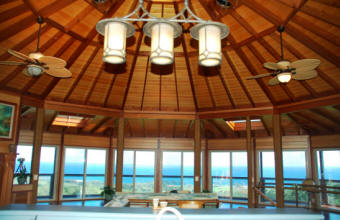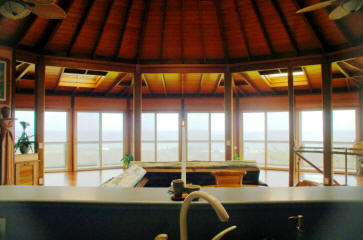 More Kitchen views, looking toward the right...
Overhead tinted Skylight provides Natural Lighting
to Kitchen and Living Areas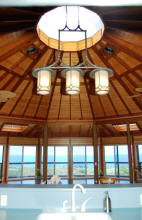 Beautiful, nautical-style light fixtures and ceiling fans
compliment the home's tropical interior design.


A Coffee / Tea and Breakfast Center
off side of Kitchen / Dining area
A separate cabinet / countertop area, easily accessed near the dining area

with spacious drawers and beveled glass cupboards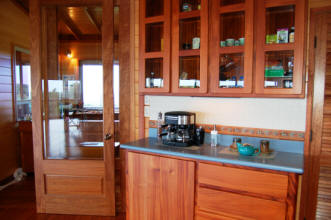 Perfect for your favorite coffees, teas, espresso/cappuccino machine...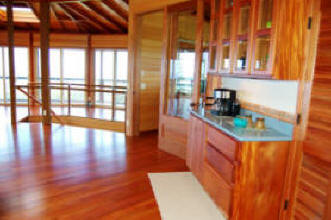 Pantry - Kitchen Gourmet Room
Just behind the Kitchen is a large, spacious
Walk-in Pantry with hardwood shelves and countertops
for Storage of your bulk foods,
cookbooks and extra cookware...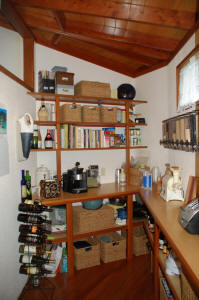 Also handy as a "gourmet prep room"
with lots of extra counter-top space for making
your pie crusts, pasta, fresh juices, etc..
Includes handcrafted African Mahogany shelves and counter-tops,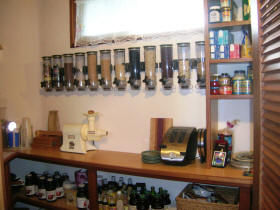 and electrical plugs for easy use of some of your small appliances
that you may not want to keep out in the main kitchen area...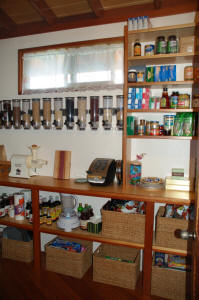 Leaving you with more clear, open countertop space, in your main kitchen area...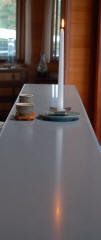 More Areas & Features - Upstairs: