Central Living Area
Custom craftsmanship throughout this home is evident, in every detail.
Living area floors are solid Brazilian Cherry Hardwood
(photos enlarge with click)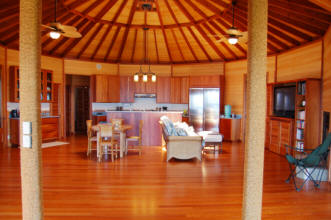 High open-beam ceilings include 3 solar-powered roof vents,
plus adjustable ceiling fans and lots of vinyl sliding glass doors
providing all options to adjust your fresh air circulation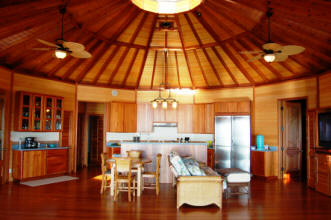 Center tinted Skylight provides natural lighting, in any weather

Central Entertainment Center features Plasma TV and Dish network,
plus custom wired 4-channel Whole-House Sound System
with speakers and controls in every room, upstairs and downstairs.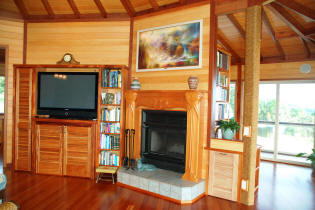 Glass-view Wood-burning Fireplace,
Hand-carved Mahogany Mantle and Tiled Hearth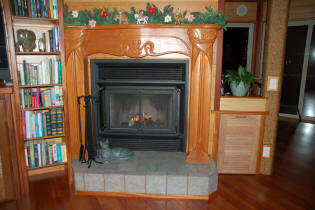 Roll-out Mahogany firewood storage bin beside fireplace
keeps fire supplies handy and hidden from view.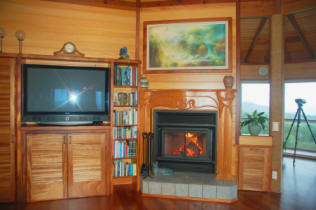 Central Dining Area
Enjoy your meals with unsurpassed panoramic views of Hamoa Beach,
'Alau Island and surrounding blue Hana-side oceans
where the humpback whales come to frolic with their young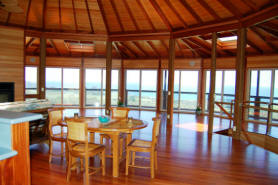 The Kitchen opens onto this Central Living Area, sharing in the delightful views,
and it has many thoughtful features.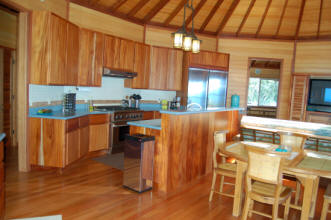 To discover the Kitchen / Pantry areas and features of this home, click here.



More Areas & Features - Upstairs: